paint by number is not for small children. Kids have their own color-by-number where they use color pencils or maybe crayons to the maximum limit. Basically, this kit of paint by number had been invented for grownup children or adults. When this kit lands in the perfect hands it creates wonders.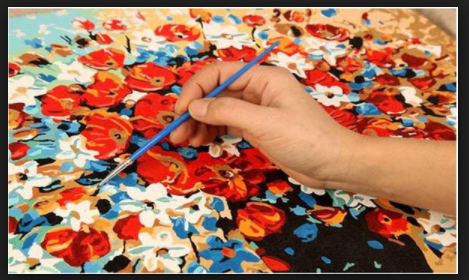 Though there were people who claimed that the idea of paint by numbers was ridiculous. Still, people accepted this idea that there can be wonders hanging without any proper training or any talent. The painting of landscapes and more by paint by numbers had entered the country's houses and captured a place in the wall as well as in their hearts.
More points about Painting by Numbers and how helpful it is for beginners
In this technique of painting by numbers, a complete picture is partitioned into shapes. Each division is provided a particular number depending on the color approach. Anybody who wants to paint using this technique just needs to colors each shape one by one and when all the shapes are filled automatically the painting will be complete.
Critics and painters often make fun of this technique as this approach does not require any creativity, talent or training. It is considered to be very simple and formularize. But it has passed the basic concept that painting is all about shapes and colors. Like the saying "united we stand and divided we fall", these shapes when seen individually makes no meaning but when joined together they look real and can even create wonders. To grow as a painter a person needs to learn to visualize shapes of color by themselves without looking at any provided picture. This approach also helps in analyzing and observing the shapes and colors present in a particular painting.